A Message from Fr. Dale
September 30, 2021
Feast of Saint Jerome, Doctor of the Church
My friends of the SFX family,
This is a talk that I gave Wednesday evening for all RE parents and wanted to share with you all because we all have a duty and privilege to The Eucharist…
RE Parent Meeting @ SFX
September 29, 2021
My apologies to Aretha Franklin…
RESPECT: I offer to you, to your children, your grandchildren, our catechists a theme, if you will, for the 2021 year of religious education. I embrace it wholeheartedly and I know you do, too. It is a great goal for us as a Catholic Christian persons to work towards!
Respect: by definition from Webster: treat with special consideration or high regard; heed.
We are a people of the Eucharistic Table. We say that it is the priority of this community. It is the place and time in which respect is to be shown; for what is happening at The Altar as well as what we have done BEFORE and AFTER we come to The Altar.
As we heard recently in the scriptures, Respect is FUTILE AND EMPTY unless it includes The Holy. While The Holy can be found in God's creation, The Holy is MOST revealed at The Altar, in Word and Eucharist. It is from there that we all are taught and we learn best.
As one would expect, when a person misses mass week after week after week (and COVID has really challenged ALL of us); there is a great disconnect between what that person says and what that person does; it determines whether that person is credible or not credible. The non-credible have no place in our RE program.
You and I can tell a person who is disconnected. People who dismiss themselves week after week from The Table of the Lord are people who are not focused and not grateful and very disconnected and very unhappy.
As you know, you and I are called to respect and fulfill the commitments we make. At your child's baptism, you PROMISED to raise him or her in "the ways of our faith". Our Religious Education Program at Saint Francis Xavier Church works on the premise that you will continue do this. If not, all the other work we educators and catechists attempt is in vain.
But we are not about the negative, we are about the positive. We are called to respect people, places and things. But above all, we are called to respect God and to pray in His house.
As pastor, I invite and re-invite everyone to His house. We are less if our members are not here.
Teach by doing…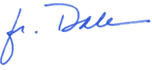 Recommended reading from Fr. Dale